Icona Pop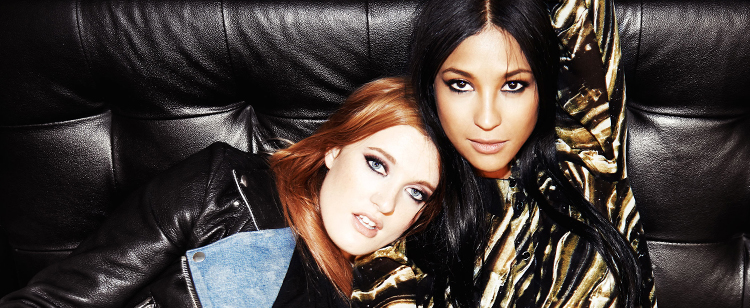 Mixes
About
Icona Pop was officially born in the manner you'd hope two smart, spunky Swedish girls would unite: under the midnight sun, bonding over heartbreak and breakbeats. 'I was dumped, and a mutual friend forced me to go to a party. Caroline was hosting it,' Aino Jawo recalls on meeting her future bandmate Caroline Hjelt. They now famously describe the resulting bonding experience (and all night Stockholm dance-a-thon) as something like 'love at first sight'.<br><br>
Sparks flew. Out with relationship angst and in with female friendship: a creative fuse had been lit, and that very night, the two began scheming and dreaming of forming 'the best band ever'. But unlike most alcohol-aided ambitions, this one began to unfurl the very next day, when the girls began writing their first song together. Armed with their laptops, Aino's brother's studio, and a thirst for experimental percussion, they knew at once they were onto something good. 'It was already there from the first song,' says Caroline. 'This is how it should feel like. In Aino, had found my missing ingredient.' Which, of course, is how many now might describe Icona Pop's relationship to music - a wonderful thing so suddenly necessary it's hard to believe it didn't exist before.<br><br>
The girls' trajectory from eager Stockholm youths creating early templates for their hyperkinetic pop to playing to a crowd of 20,000 at Madison Square Garden clocks in at just over three years - an impressive alacrity that should keep other musicmakers on their toes. Jawo and Hjelt worked ceaselessly, collaborating with high-caliber producers Patrick Berger, The Knocks, and Elof Loelv to create a distinctively dramatic sound - bright and dark in one, combining chanted choruses and live but mechanized drums with their signature 'bittersweet' lyrics.<br><br>
Shot like a dart into the public's collective subconscious by HBO's hit show GIRLS, "I Love It" is the rave-fueled stormer that truly put Icona Pop on the radar of millions. 'I crashed my car into the bridge, I don't care! I love it!' the chorus declares proudly, making nihilism seem damn fun. The unofficial summer anthem of two summers in a row (and how many acts can claim that?), its sales now stand at 2 million in the US alone, where it's been an unmovable fixture of the Top 10 for months. Its global achievements also rank in the upper commercial echelons: in the UK, it immediately hit the Top 5 upon its iTunes release, and in Sweden its success has literally changed the landscape of the Scandinavian recording history, prompting Icona Pop's Stockholm-based label/management company, Ten Music Group, to set up a New York City office -- a milestone for Swedish pop.